Low Moisture Carpet Cleaning
Low moisture cleaning is the best way to clean your carpets without soaking them with excess water and taking hours or even days to dry. The carpet stays cleaner for a longer time because the cleaners don't leave a soap residue behind that attracts dirt. It's the latest and best way to clean residential carpets. I firmly believe that if you aren't scrubbing, you aren't cleaning. This process will do wonders for the appearance of your carpets.
It all starts with a 5 step process:
Pre Vacuum: The vast majority of visible dirt is loose and should be removed first. I thoroughly vacuum each area first to remove the pet hair and dirt.
Pre Treatment: I pre treat the traffic lanes and spots with a commercial spotter that begins to break down the spills and oils.
Scrubbing: I begin cleaning by scrubbing the carpet to work the soap into the fibers and break up the dirt.  The carpet will start to look much better and more uniform at this time.
Extraction: I continue the scrubbing process with absorbent cotton pads which extract the dirt, soap and water.  This step and the previous step are repeated until the carpet is clean, damp and smelling fresh.
Post Vacuuming: This process will vibrate the carpets and bring pet hair and debris to surface so vacuuming after cleaning is a must.  The vacuum also grooms the carpet and leaves the fibers standing upright so they will dry faster.
I use this carpet cleaning process because it produces the best results.  To get a price quote or schedule a cleaning, just CLICK HERE.
Premium Carpet Cleaning
For a proper cleaning, I recommend my Premium Carpet Cleaning which includes the following treatments to thoroughly clean and protect your carpet for the following year. It's like a fresh reset to your carpet.
Sanitizing Treatment - Now included in the Basic Cleaning
I use a powerful hospital grade cleaner that is an EPA approved sanitizer that kills all known harmful bacteria and viruses. This is an excellent anti-allergen treatment as well.
Deodorizing Treatment
I use a powerful commercial grade deodorizer that neutralizes the organic compounds in your carpet that is producing all the odors.  This leaves your carpet smelling fresh and clean again without any overpowering fragrance.
Stain Guard Treatment
This will add and enhance your carpets' stain resistance and helps prevent spills from becoming permanent stains.
Carpet Cleaning Gallery
Residential Carpet Cleaning
This apartment was very dirty.  This picture was taken after the first two scrubbing passes to show how much of a difference scrubbing a carpet can make.  If you aren't scrubbing, then you aren't cleaning.
Apartment Carpet Cleaning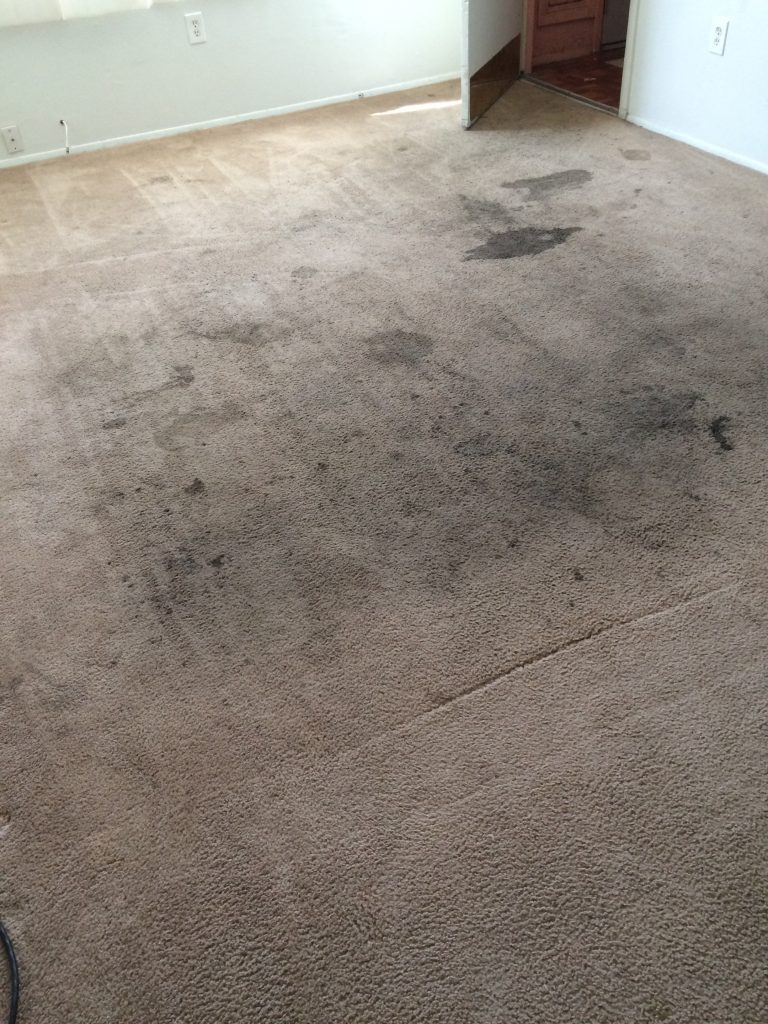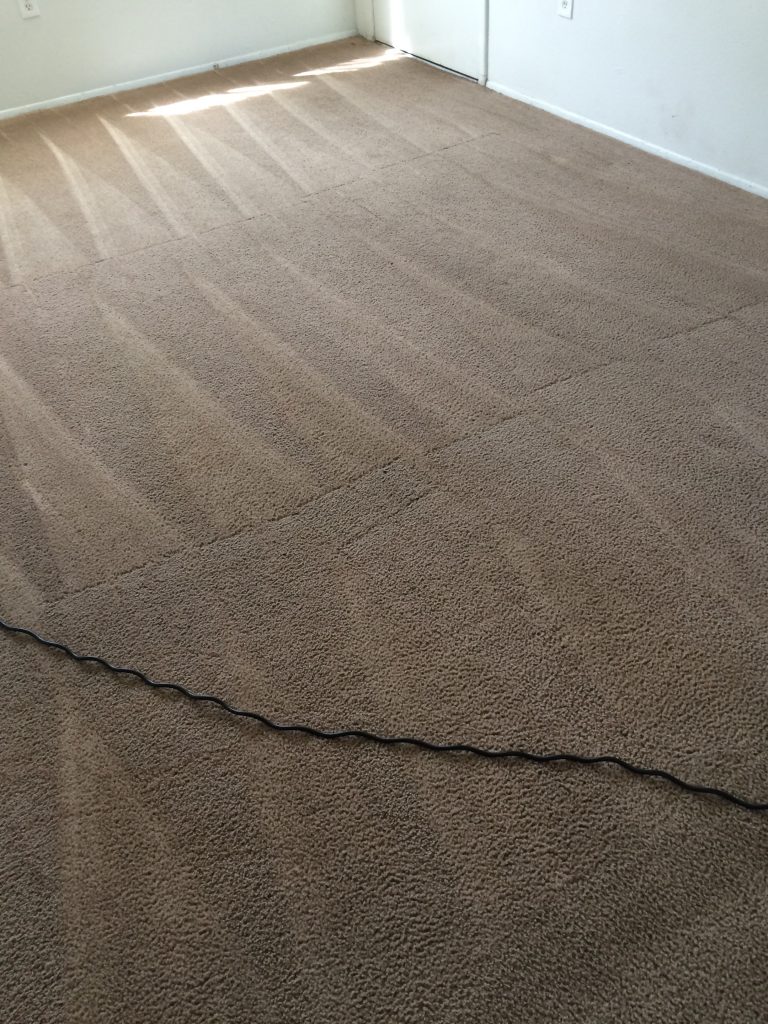 This real estate customer had some very dirty tenants.  This cleaning took several scrubbing passes.
Residential Carpet Cleaning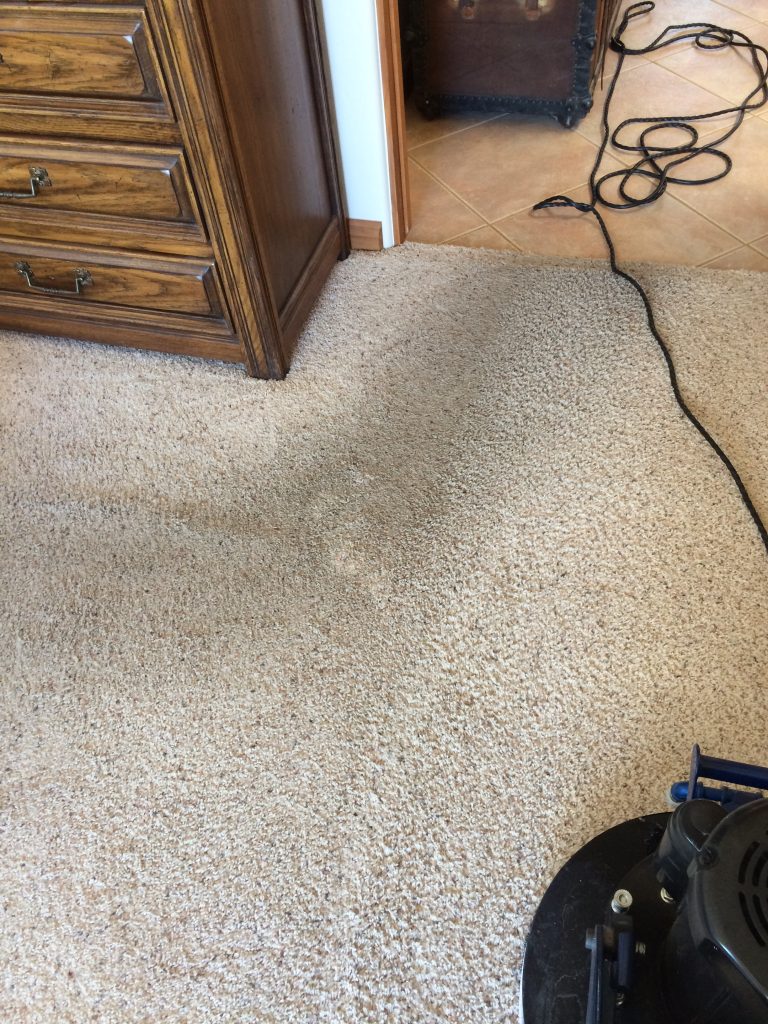 This home had very light carpets that were well maintained.  It took a couple of scrubbing passes to clean this traffic lane.
Residential Carpet Cleaning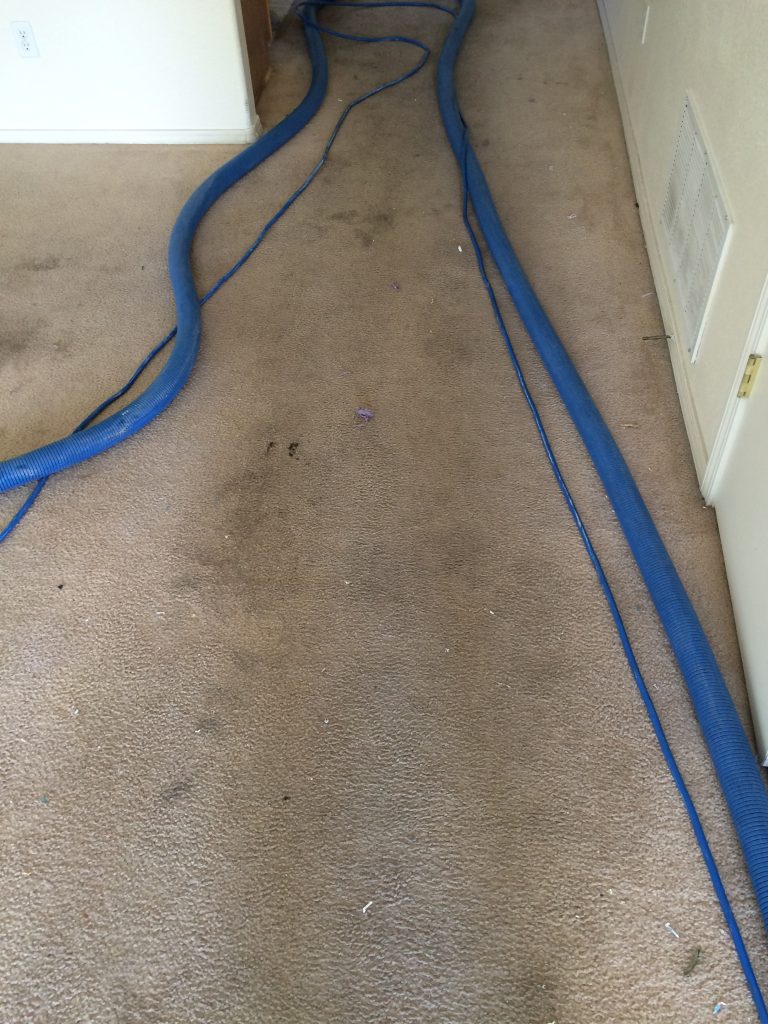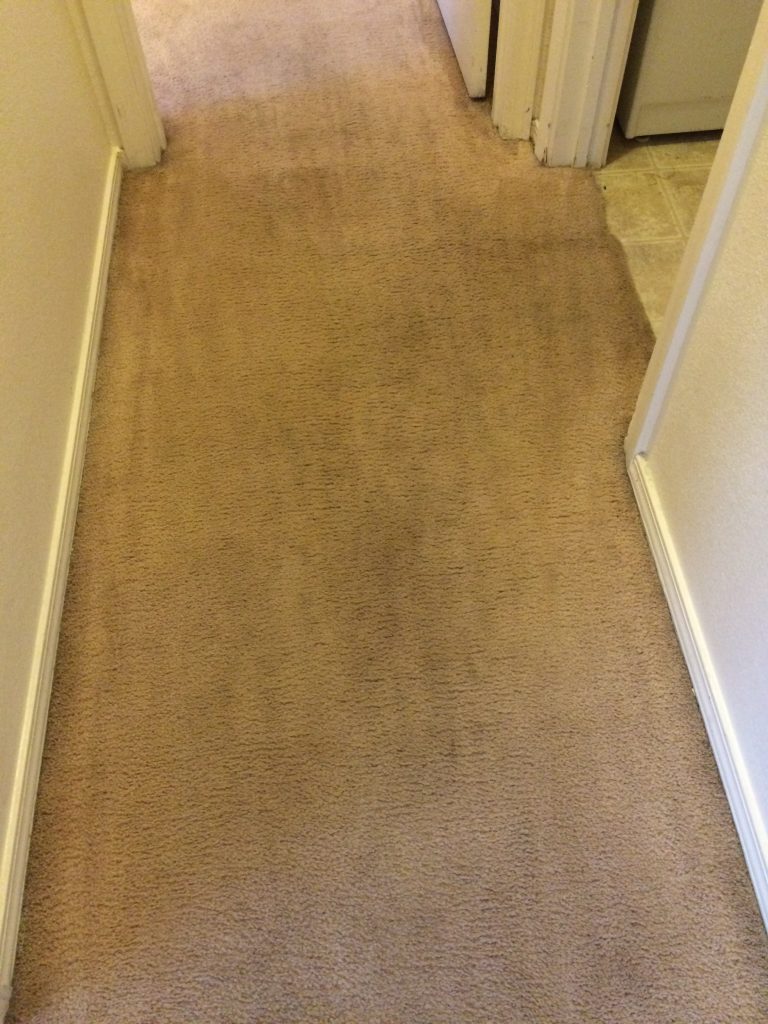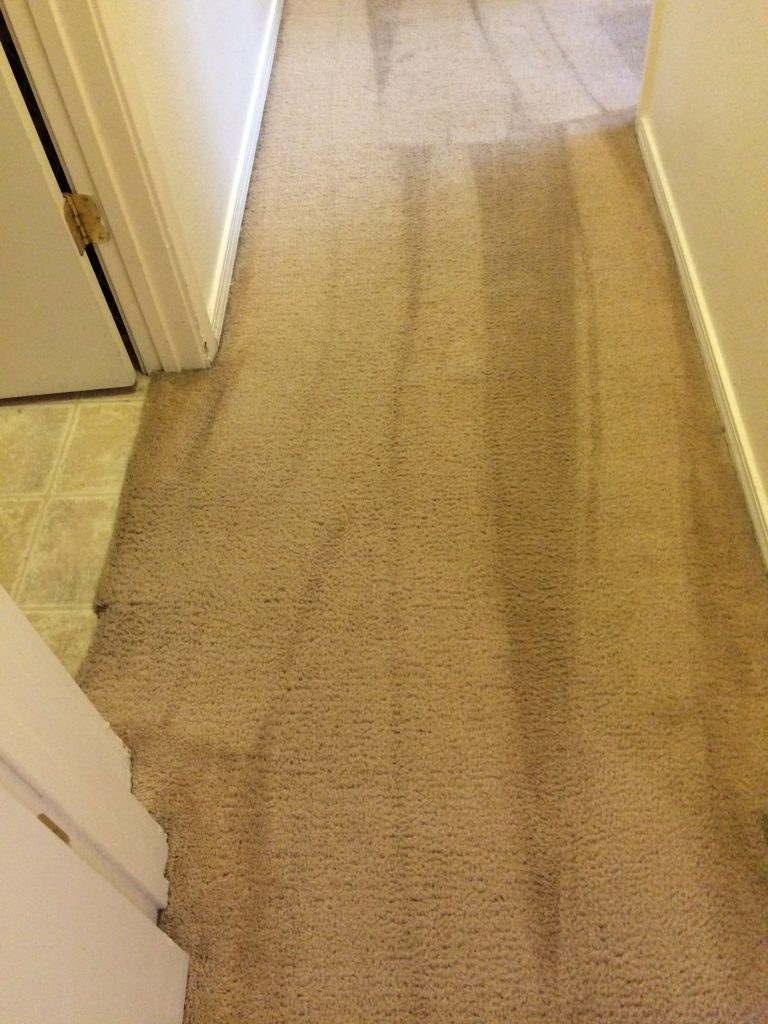 This customer had another carpet cleaner clean the carpets with a steam cleaner one week prior.  The new tenant complained that the carpets were dirty again after only one week.  I scrubbed the carpets, taking out the leftover dirt and there hasn't been any other complaints.
Commercial Carpet Cleaning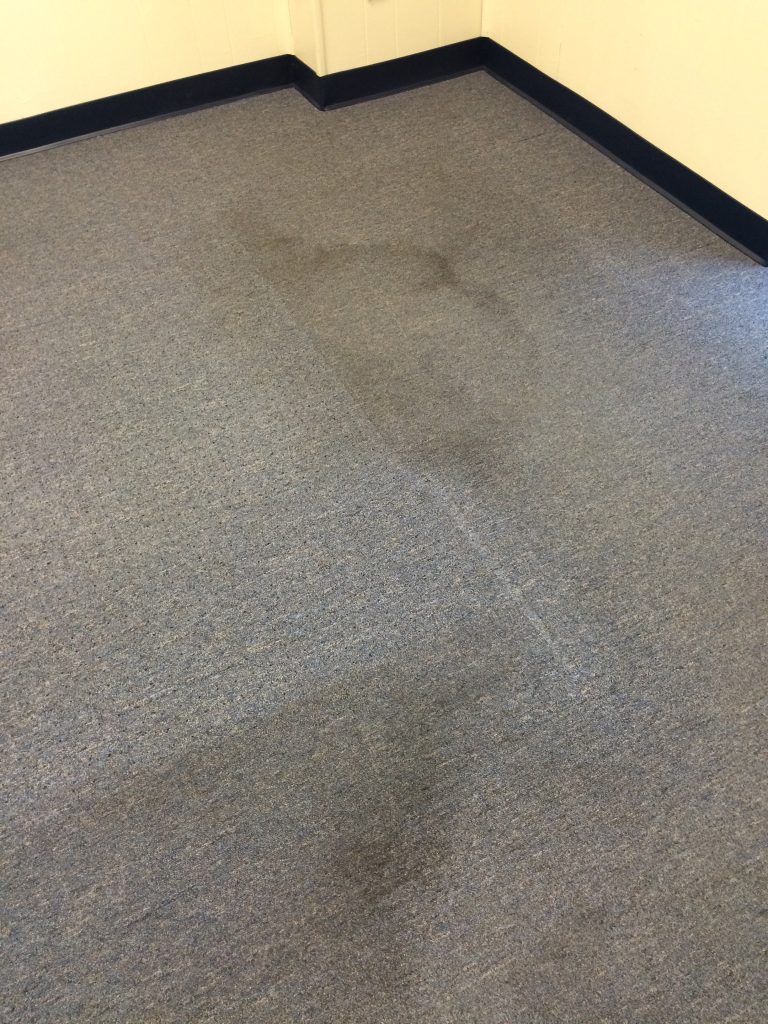 This commercial customer moved out leaving water stains and warehouse dirt from around the chair mats.  It took several scrubbing passes to clean this carpet.
Commercial Carpet Cleaning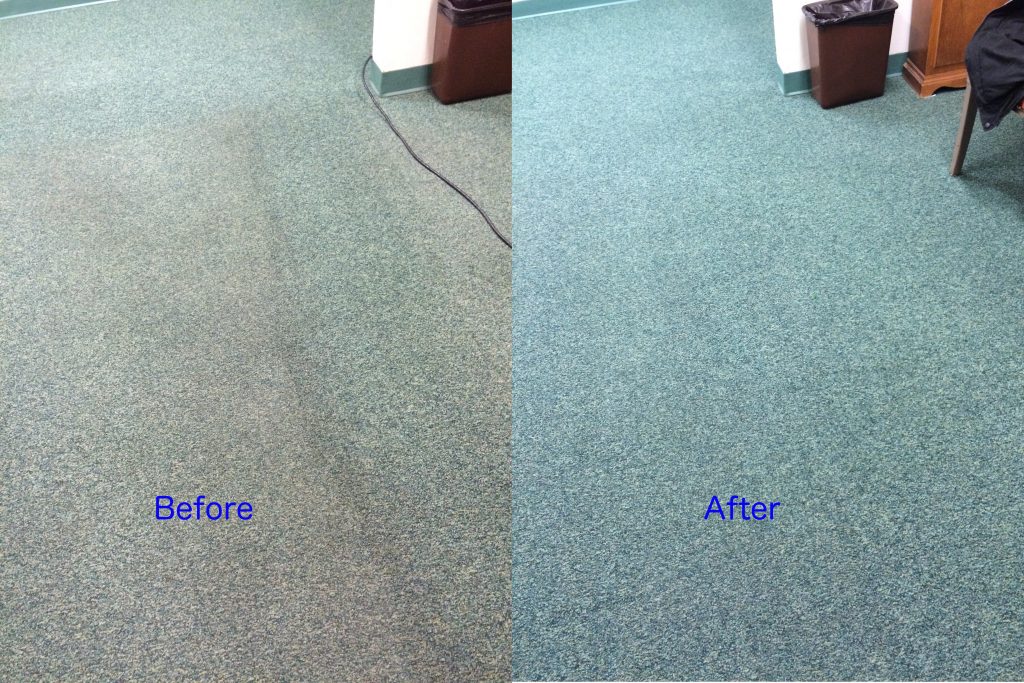 This lobby and hallway of commercial office building had some very pronounced traffic lanes.  I took a picture while cleaning the lobby to show the difference I was making in the main traffic lane.  This carpet cleaned up very nicely.