Low Moisture Carpet Cleaning
Low moisture cleaning is the best way to clean your carpets without soaking them with excess water and taking hours or even days to dry. The carpet stays cleaner for a longer time because it doesn't leave a soap residue behind that attracts dirt. It's the latest and best way to clean residential carpets. I firmly believe that if you aren't scrubbing, you aren't cleaning. This process will do wonders for the appearance of your carpets.
It all starts with a 5 step process:
Pre Vacuum: For best results the carpet should be vacuumed before cleaning.  As a cost saving measure, you can vacuum your carpets before I arrive or you can schedule for me to vacuum when I show up.  The cost to pre vacuum is $20 per room.
Pre Treatment: I pre treat the traffic lanes and spills with a stronger version of my commercial soap.  If requested, I also treat the urine spots at this time. The cost to treat the urine spots is $20 per room.
Scrubbing: I begin cleaning by scrubbing the carpet to work the soap into the fibers and break up the dirt.  The carpet will start to look much better and more uniform at this time.
Extraction: I continue the scrubbing process with absorbent cotton pads which extract the dirt, soap and water.  This step and the previous step are repeated until the carpet is clean, damp and smelling fresh.
Post Vacuuming: This process will vibrate the carpets and bring pet hair and debris to surface so vacuuming after cleaning is a must.  The vacuum also grooms the carpet and leaves the fibers standing upright so they will dry faster.
I use this carpet cleaning process because it produces the best results.  My prices start at $90 for 2 rooms.  Each additional room is $30, so 3 rooms are $120, 4 rooms are $150 and so on.  Rooms are 200 square feet or less. Any areas that are larger than 200 square feet will be counted as extra rooms. Stairs and hallways each count as a room.
Pet Urine Treatment
If you have urine odors from your dogs or cats, I can take care of that for you.  I use a powerful oxygen based cleaner that neutralizes the urine.  This cleaner leaves your carpet smelling fresh and clean again.  The price for this service is $20 per room.
Rug Cleaning
I can clean rugs that are made of synthetic fibers at your home when I clean your carpets.  The prices are $10 for a small rug, under 15 square foot, $20 for a medium sized rug, under 50 square feet, and a large room sized rug would be $30.
Carpet Cleaning Gallery
Residential Carpet Cleaning
This apartment was very dirty.  This picture was taken after the first two scrubbing passes to show how much of a difference scrubbing a carpet can make.  If you aren't scrubbing, then you aren't cleaning.
Apartment Carpet Cleaning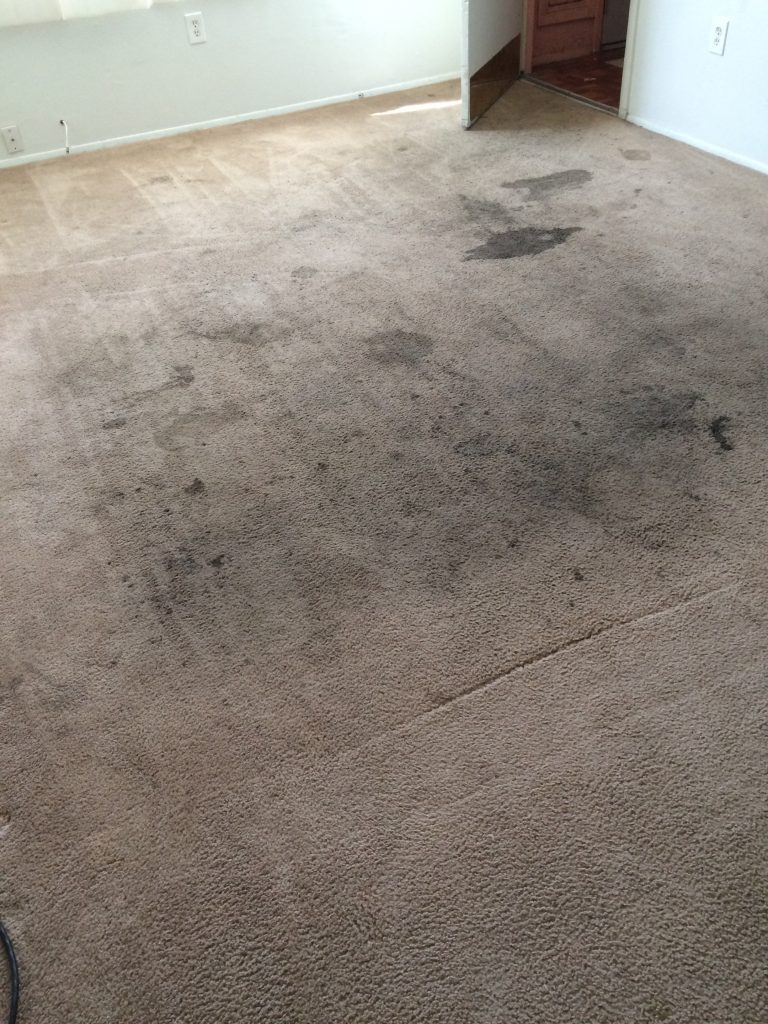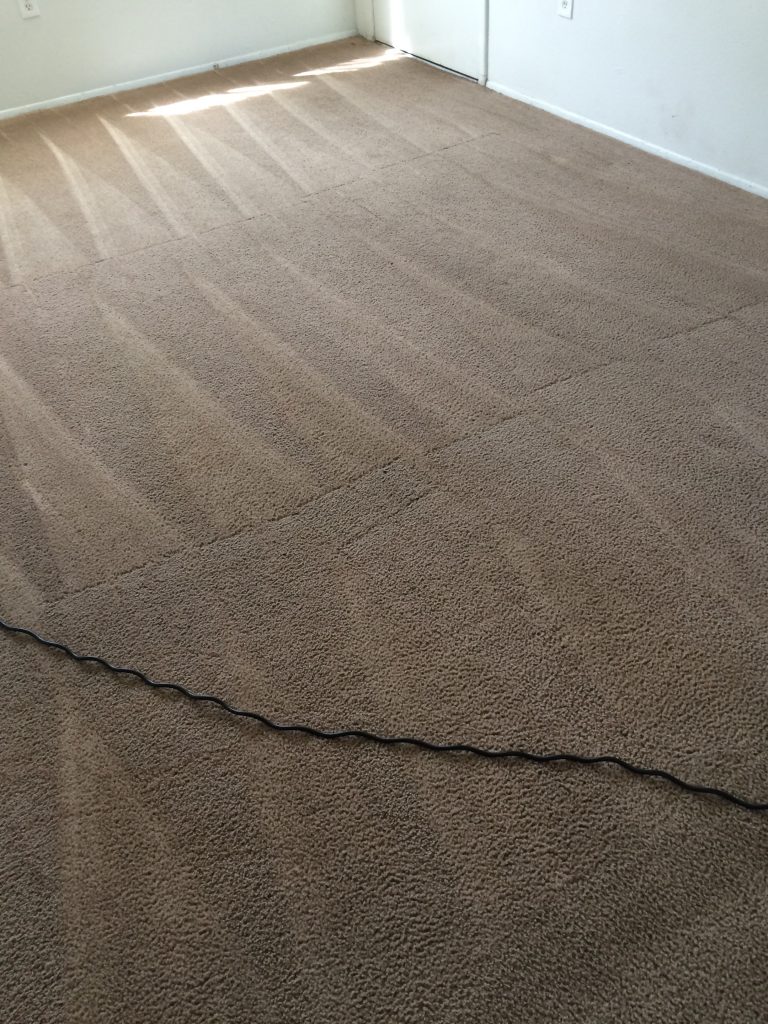 This real estate customer had some very dirty tenants.  This cleaning took several scrubbing passes.
Residential Carpet Cleaning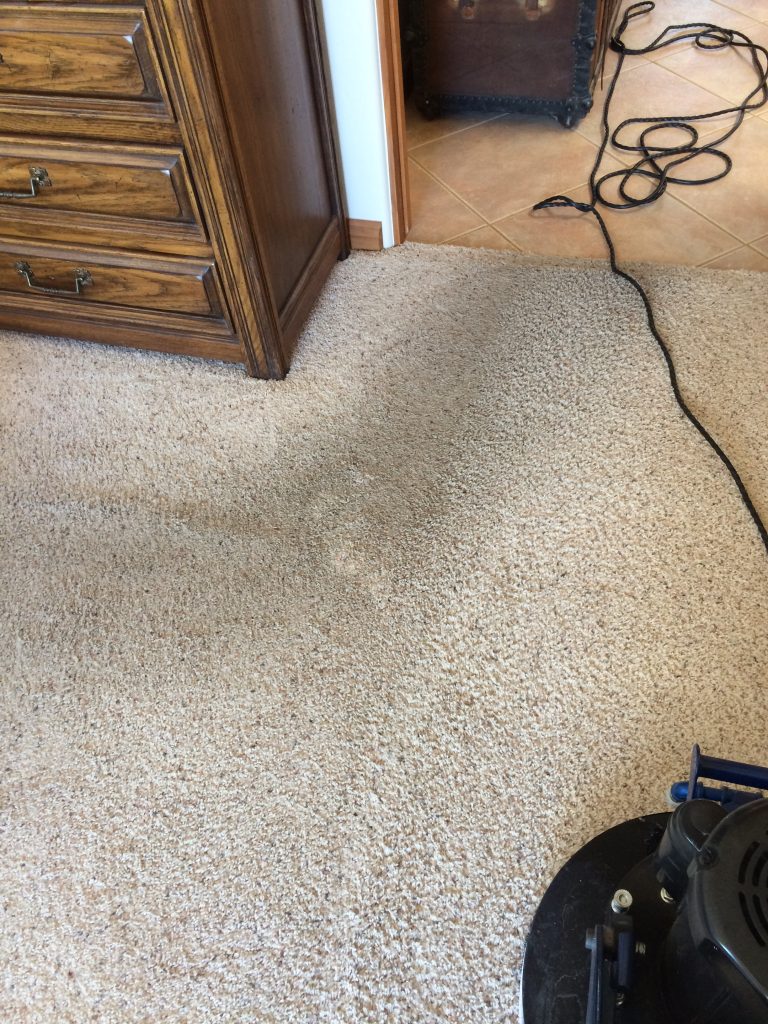 This home had very light carpets that were well maintained.  It took a couple of scrubbing passes to clean this traffic lane.
Residential Carpet Cleaning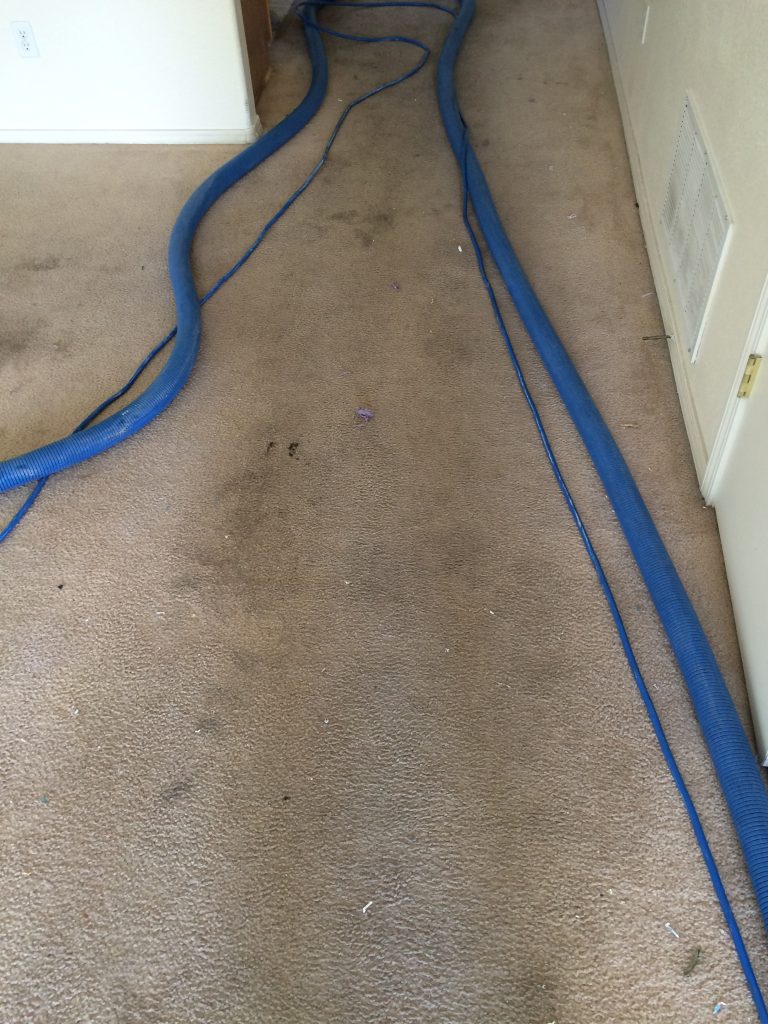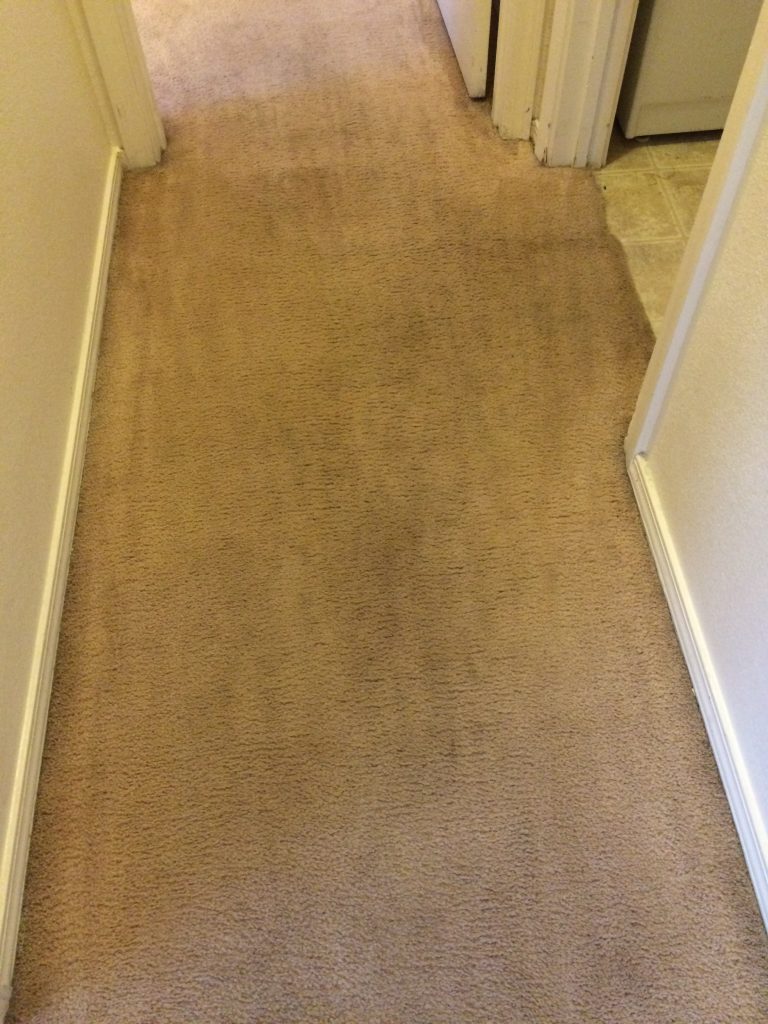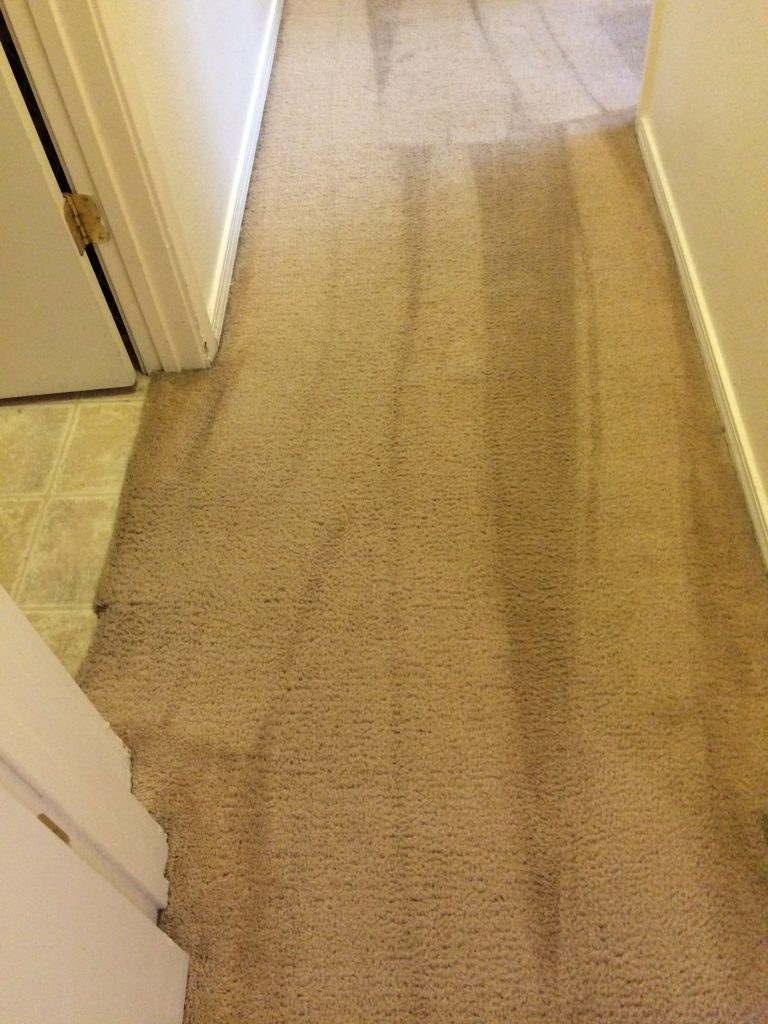 This customer had another carpet cleaner clean the carpets with a steam cleaner one week prior.  The new tenant complained that the carpets were dirty again after only one week.  I scrubbed the carpets, taking out the leftover dirt and there hasn't been any other complaints.
Commercial Carpet Cleaning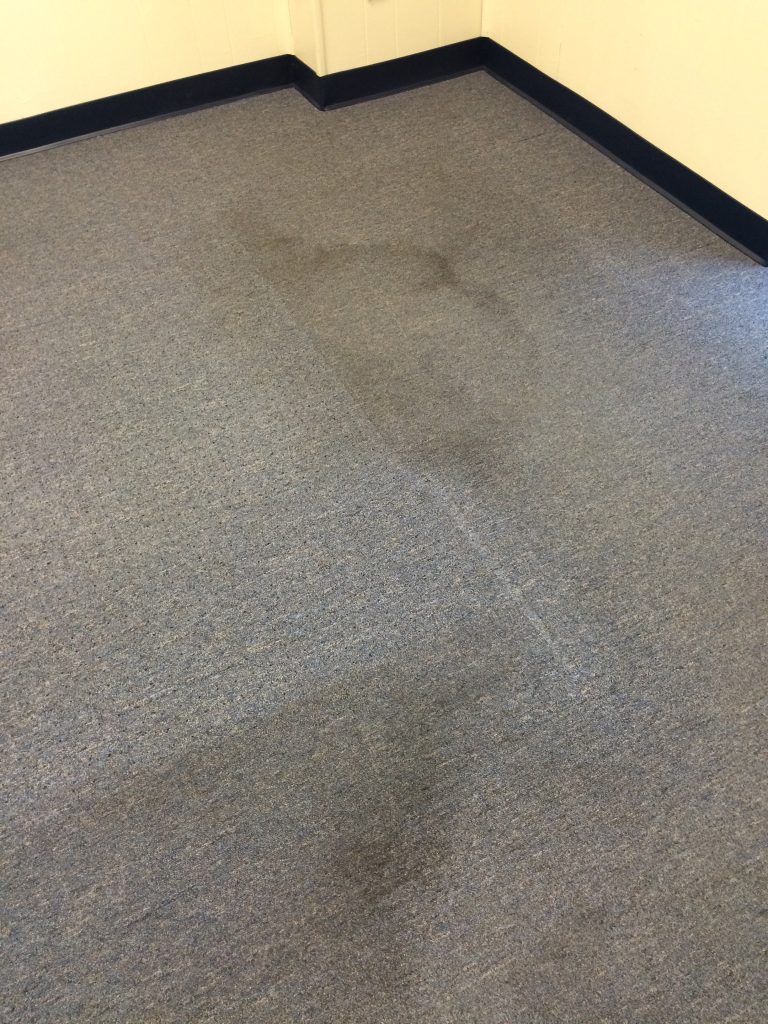 This commercial customer moved out leaving water stains and warehouse dirt from around the chair mats.  It took several scrubbing passes to clean this carpet.
Commercial Carpet Cleaning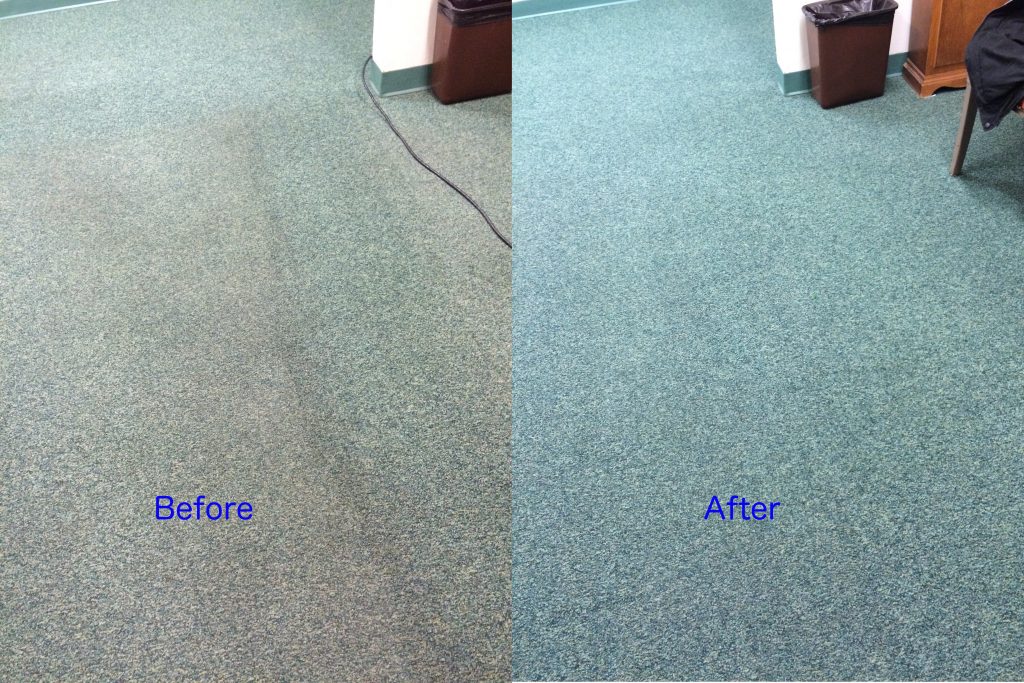 This lobby and hallway of commercial office building had some very pronounced traffic lanes.  I took a picture while cleaning the lobby to show the difference I was making in the main traffic lane.  This carpet cleaned up very nicely.